Radio Remote Control System
RADIO REMOTE CONTROL SYSTEM for ALL CRANES / Material Handling Equipment all types of electromechanical machines and electrohydraulic machines.
Product Description:
The Radio Remote Control is designed with advanced technology these design satisfies all requirements in diverse industries, its programmable systems are suitable for different function settings applied in various equipment. Radio Remote Control can be fitted as standard device for various Material Handling Equipment applications such as Overhead Crane, Bridge Crane, Jib Crane, Tow Truck, Truck Tail, Concrete Pump Truck, Tower Crane, Gantry Crane, Monorail, Hoist, Lifting equipment, Conveyor, Furnace Door Gate, Construction machineries.
These are tiny module, designed to reduce user fatigue and to improve operating performance and safety. We ensures that smoothly operation under severe environmental conditions. Especially where there is a serious interference and temperature change. They are design durable, economical and low-maintenance structure.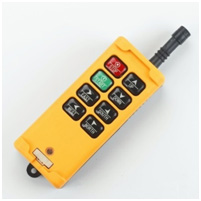 The unique outstanding features such as:
Low power consumption.
Transmitter and Receiver are Programmable: All the functions can be configured and modified by simply using its Program. On Windows base to meet a several of applications. (Inching, interlock, non-interlock, normal, toggle…etc.)
Standard modules with interchangeable parts assembly.
Copier makes duplicate an identical Transmitter or Receiver in a minute, as replacement or repair required.
Customized label stickers: including button symbols, changeable languages.
Billion unique ID codes for maximal security.
Self-diagnosis and Multi-warning indications, provides quick and easy maintenance and after service.
Pre-wire output cable makes installation tasks easier and clearer.